Mackin Outfitting Ltd - Testimonials
Here's what a few of our customers have had to say about us.
Have a testimonial of your own to share?
Send a Testimonial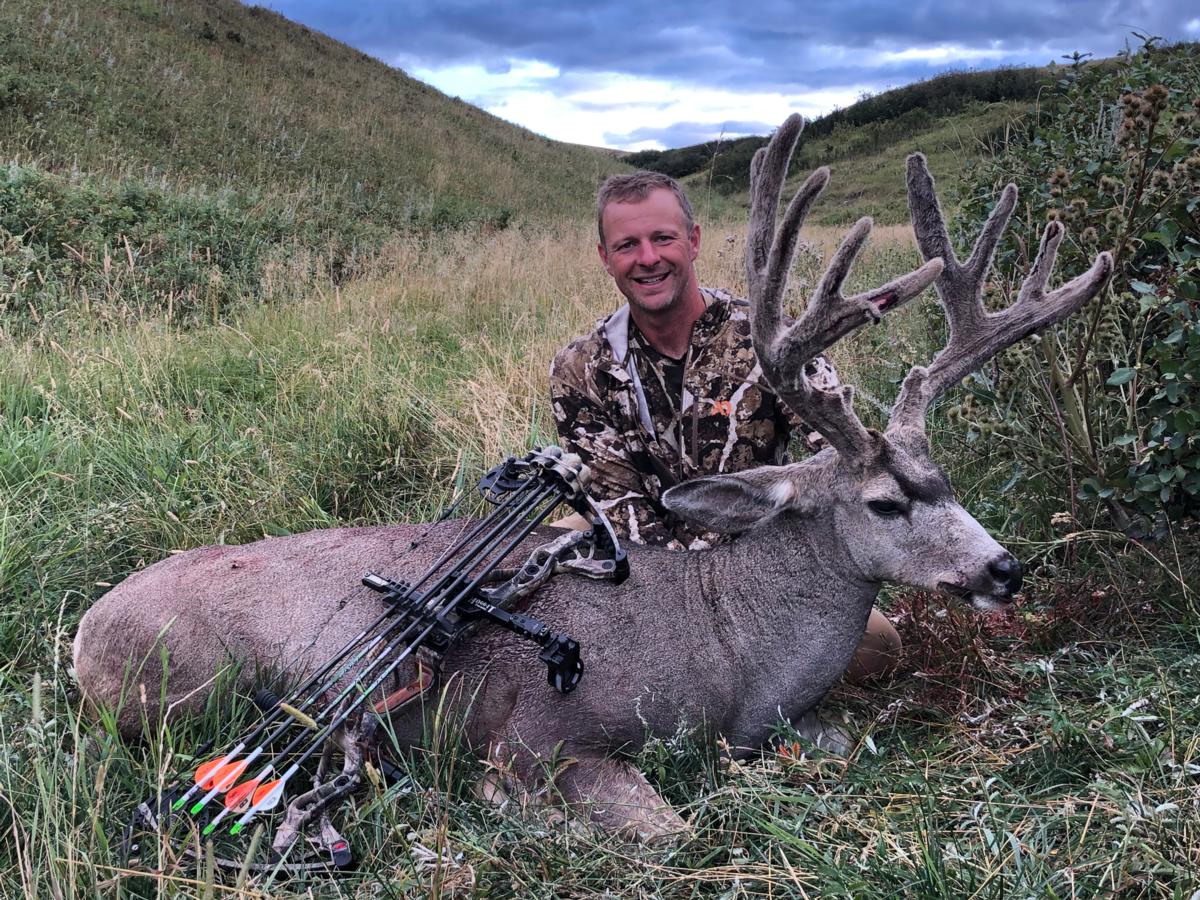 Troy Sider
Fall 2020 - Ontario , Canada
From the moment we arrived my wife and I felt at home, the accommodations and home cooked meals were nothing short of exceptional. In the field, Tyson is a true professional and his years of experience showed throughout the hunt. In the area we hunted we were fortunate to see a large number of mature bucks and Ty's knowledge of the land led to multiple stalk opportunities. I cannot thank Ty and Angie enough for the quality experience they provided us, my expectations were exceeded in every aspect and I would not hesitate to recommend their services.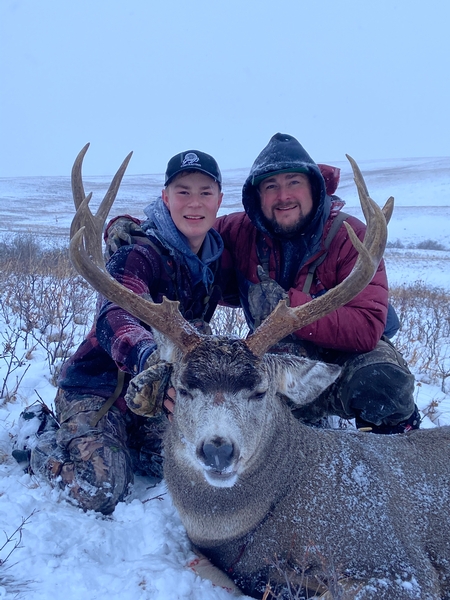 Geoff Berry
Fall 2020 - Cranbrook BC
This was my second hunt with Tyson and I can't wait to go back! I have been hunting for more than 25 years. I've been fortunate enough to be successful on a countless number of animals, species, and many trophies. All that being said, I am nowhere near the level of Tyson's expertise! Tyson loves being out in the field, he knows these animals and where they can be found. Tyson is better with a knife than most taxidermists and some butchers. He reloads his own ammo, is a tactical shooter, a back country horseman, and guided all kinds of species including many sheep. Tyson's wife Angie is an incredible cook! Ty and Angie both know how to talk to people and make them feel welcome at their establishment. They have a basement entry rec. room, bathroom and bedrooms for their guests that is super comfortable. The hunting action is non-stop. If your prepared to walk, and hunt hard, you don't need to look any further. This was an amazing experience for my son and I. If it was my way, we would be back every year!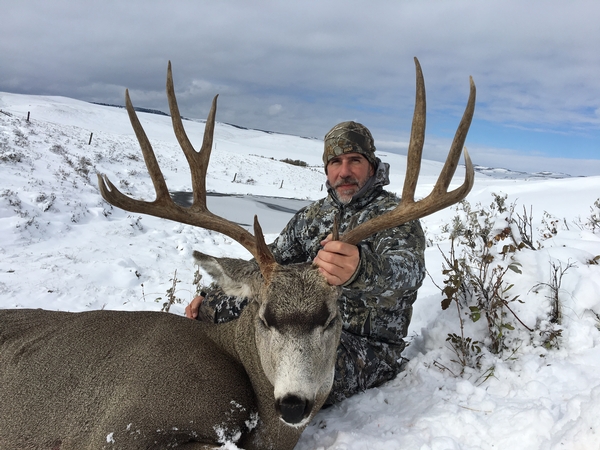 Dave Barna
Bow hunt mule deer
Dave Barna
October 2019 Sparta. New Jersey
This was my first and hopefully not last hunt with Tyson and family. This was for me truly a hunt of a lifetime and an overall wonderful experience. Tyson, Angie and his family made us feel at home from the moment we arrived and kept us going with great meals every day. I hunted with Tyson's guide Cody and was amazed at his skills both glassing and stalking. More importantly, we had a lot of laughs along the way during a crazy week of weather and stalks. I was fortunate enough to take a great deer on day 3 and experience more stalks and hunting, watching Ty and my camp mate Hughes over the last days of the hunt.
This is a quality operation, top to bottom. I would welcome anyone reaching out to me if I could help answer any questions.
973 722 7818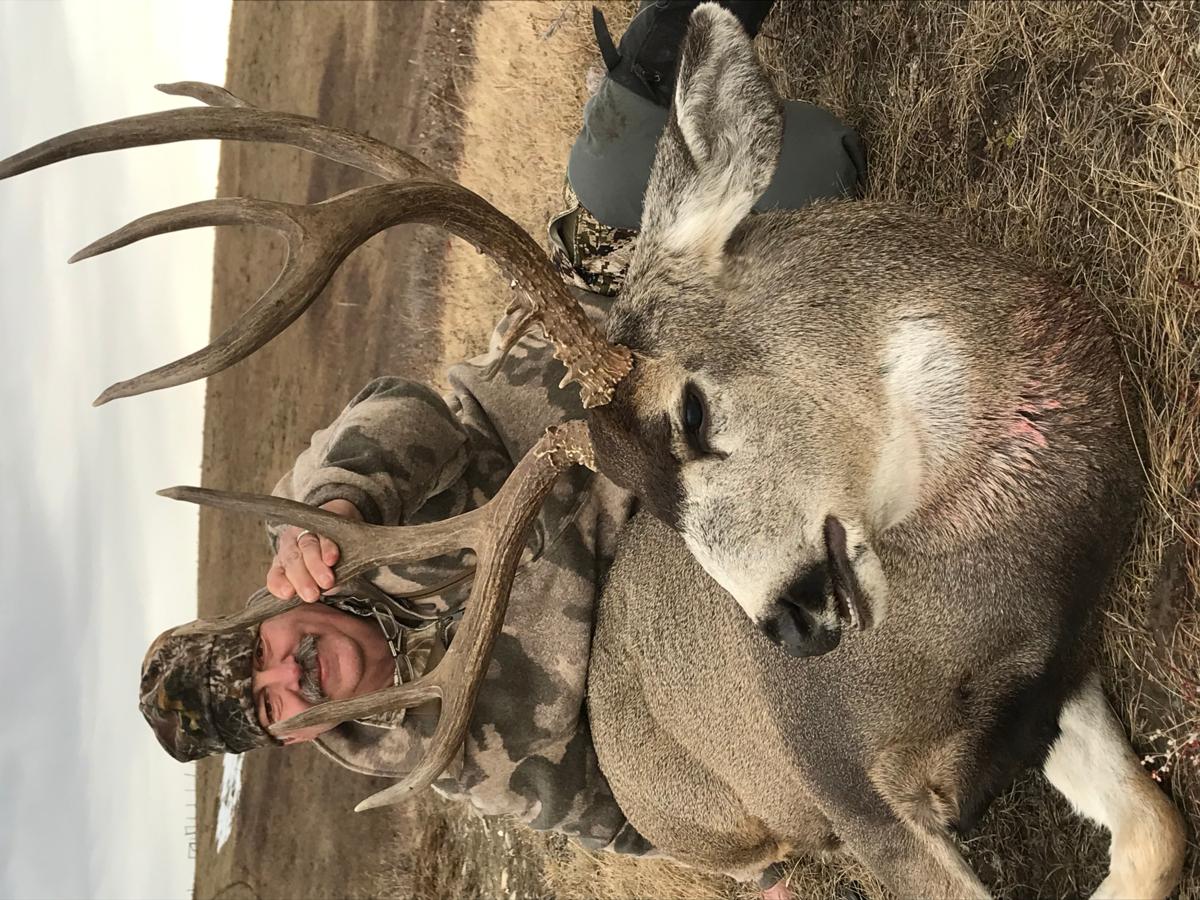 Art Diebel
Spring '19 and Fall '19 - New Jersey
I have now hunted twice with Tyson. The first was a Cougar hunt. I got a very nice Tom with my muzzle loader. The weather wasn't in our favor it was warm and all the snow melted. Tyson and Paul worked very hard and we got a wonderful cat. Last fall I returned for a Mule Deer hunt. We had sometime on the day that I arrived and we went scouting and to give me a idea of what to expect. We saw quit a few that I would have been happy shooting that day. Tyson kept on saying that's a last day deer we will remember where he is. I ended up taking a excellent deer. You will become part of Tyson's family and the food is great. Angie will make sure you don't go away from the table hungry. I have two more hunts booked at this time and will keep going back.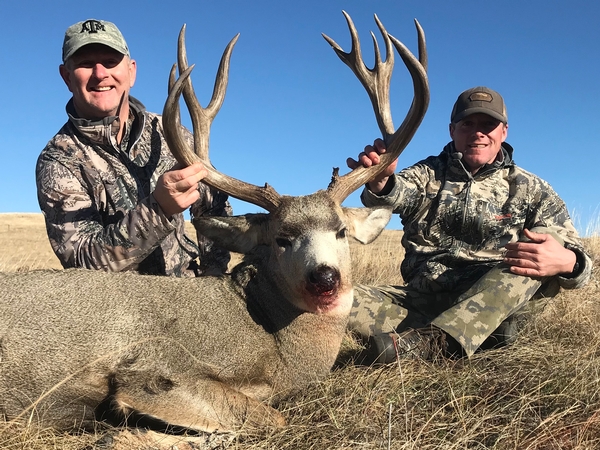 Jeff Cranford
Fall 2018 - The Woodlands, Texas
This was my second hunt with Tyson and I have reserved my third. I keep returning not only because the areas Tyson hunts have great deer but primarily because of Tyson's efforts and skills. I brought my brother with me for his first Mule Deer hunt and I wanted him to hike into back areas and experience a great spot and stalk guided hunt. We both left very satisfied and on the calendar for 2020! If you enjoy true free range hunting then I strongly recommend Mackin Outfitting. You will get a hardworking guide, see beautiful country and have a fantastic experience.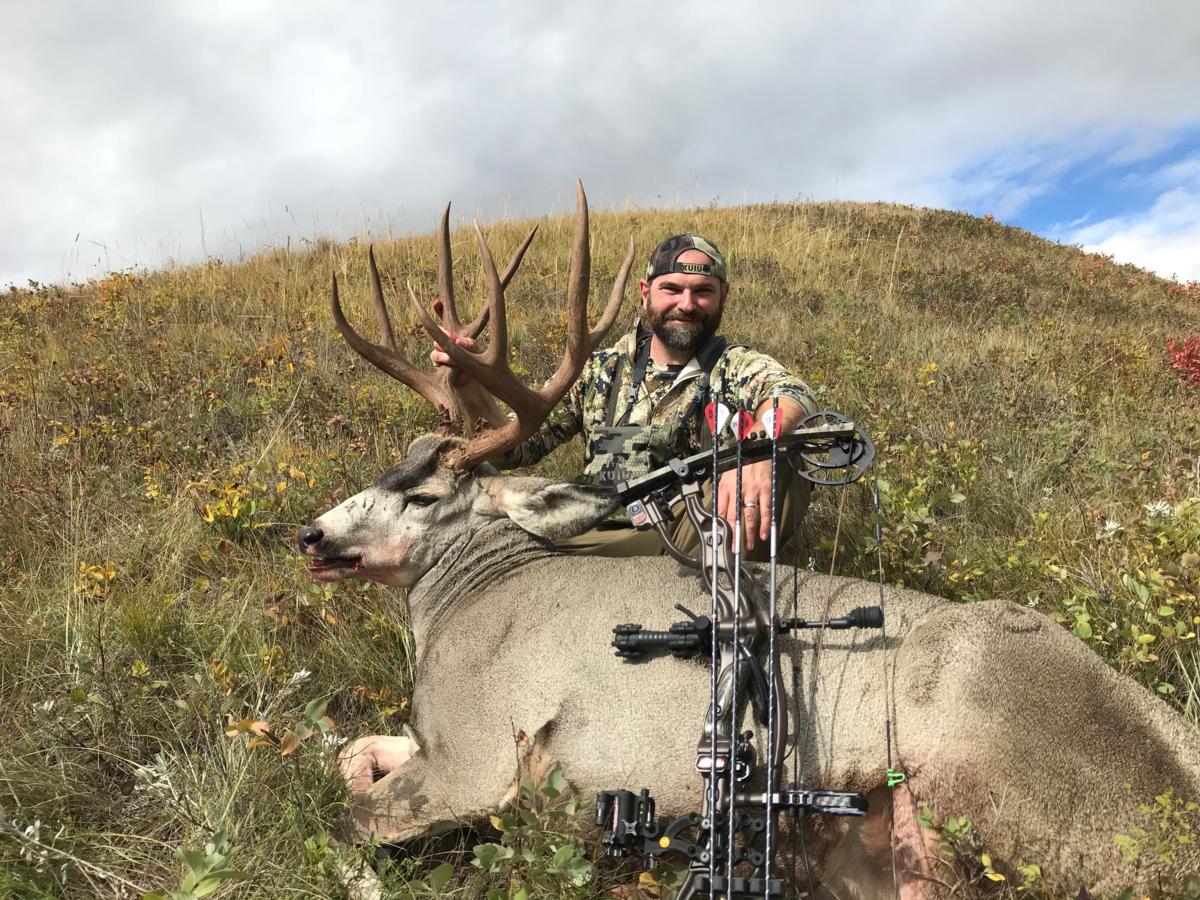 Ben McIntyre
September 2018 - Madison, Mississippi
This was my first hunt with Ty and it was the hunt of a lifetime for me. I went on a mule deer archery hunt in mid-late September 2018. Ty was on top of the hunt from start to finish. He was very professional when I booked my hunt and was available for all questions before I flew into Calgary. He promptly picked me up at the airport and it was easy to get my license at the local Cabelas. The ride to Claresholm was easy and I stayed at Ty's house in his well furnished walkout basement. His wife, Angie, cooked all our meals and they were fantastic. Ty and his guide, Cody, are excellent bowhunters and very patient and calculating when identifying and stalking game. We covered a lot of ground and were out early glassing every morning. The number and quality of mule deer in this part of Alberta is hard to beat. These are large, heavy bodied deer unlike their southern cousins. I had multiple great stalks each day and unfortunately missed my first day. As fate would have it, I was able to identify and successfully stalk the same deer on Day 5. This was a solid , symmetric 4 x4 w/ guards that green scored 182". I couldn't be more proud of this deer and am very grateful to have had the opportunity to go up and hunt with Ty. He runs a first class outfit, is honest, likable, and will work hard to get you on a great animal. He has many clients that book year after year which is a telling sign. I plan to go back at some point....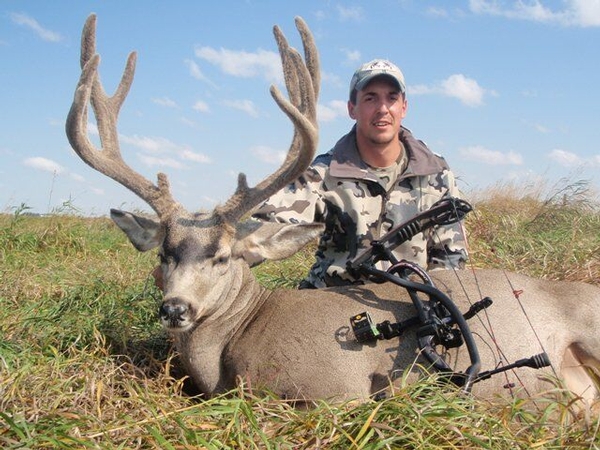 Brian Schoyer
Mule Deer
If you are looking for a hardworking, dependable outfitter then look no further! I have archery hunted with Tyson 2 consecutive year for mule deer and have been very satisfied both times. Tyson grew up in the area he hunts so he knows the land and the land owners very well. He works very hard before season and during the hunt to ensure that the hunter has every opportunity to kill their animal. Accommodations in their house are excellent and Angie makes some wonderful meals to come home to. You will come as a guest but leave as a friend. I look forward to hunting with Tyson many more times in the future. I would be happy to answer and questions you may have about his operation.
Brian Schroyer
301-707-3118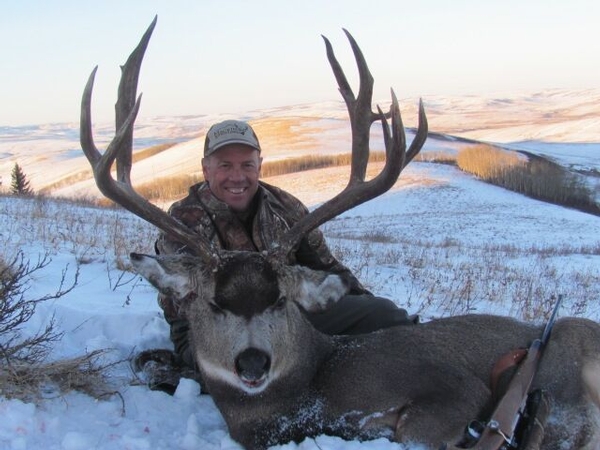 JR Kellogg
Mule Deer (repeat hunter)
I'm now a "threepeat" hunter with Tyson Mackin and have thoroughly enjoyed every minute of our adventures together . His hunting area is rich with game and multiple mature, trophy mule deer bucks are spotted daily. I have hunting extensively in North America, and Tyson's spot and stalk skills are unsurpassed. Tyson, and his wife Angie, open up their home to their hunters and they create together a hunting experience that I would like to enjoy each and every year. I plan on returning next year to the Porcupine Hills of Alberta.
JR Kellogg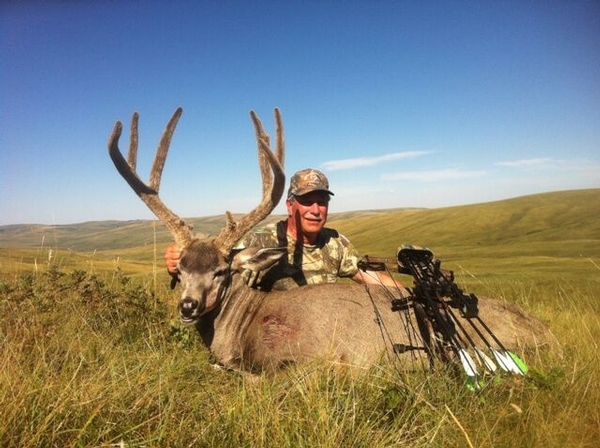 Dale Gaugler
Mule Deer
I am set for my third year in a row to bow hunt Mule Deer with Tyson Mackin of Mackin Outfitting in Claresholm, Alberta. The past two years I have bow hunted Mulies with my son-in-law Brian under the guidance of one of the best outfitters that I have ever hunted with. We have taken two beautiful bucks and missed another monster. I have been on over 75 outfitted hunts in North America so I have a lot to compare Tyson with.
Tyson cut his teeth in the Northwest Territories guiding for 10 years. He guided for sheep, moose and caribou working for one of the premier outfits in the Northwest Territory. I believe that this is where he got a sense of how to handle and what to expect from his clients.
Tyson has decided to keep his outfit small and personal which makes it a pleasure knowing who you will be hunting with and who will be guiding you. You stay in his beautiful home or one of his well outfitted camps. Tyson's wife Angie is directly involved with all aspects of the business and they are a great team.
The past two years of hunting with Tyson have produced between 50-60 bucks sited each year. Tyson has thousands of acres of private land all to himself. I have hunted the opening week of the archery Mule Deer season the past two years and never saw another hunter. I did see lots of deer, elk, bear, moose, eagles and many other species of wildlife and birds.
Over the years, when I find a good outfitter I stick with them and hunt with them over and over again, hunting their various species they have to offer or just sticking with one animal. I feel very comfortable knowing what I am getting into and the outfitter knows me and what to expect out of me.
Tyson certainly is at the top of his game in all aspects of the hunt. You cannot go wrong hunting with Tyson and I welcome anyone calling me to discuss his operation and what I have experienced so far. On September 1st of this year, I will we crawling around the foothills of the Rockies in Southern Alberta with Tyson again and am counting the days until I leave for Alberta.
Dale Gaugler
Macungie, PA
610-909-6000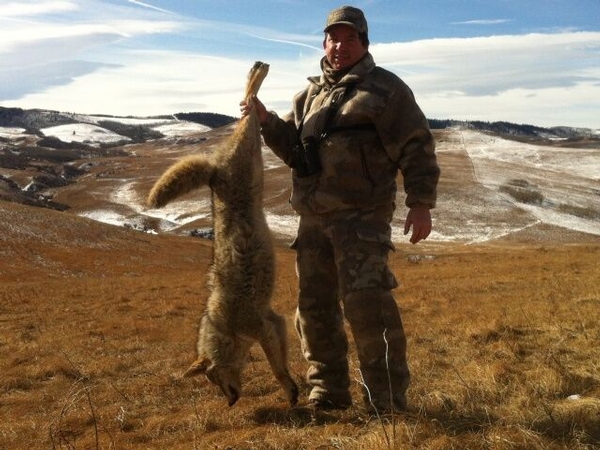 JB Eanes
Coyote
I've now been on two late winter coyote hunts with Tyson Mackin in south central Alberta. When you spend time in Alberta with Tyson you end up with more than a hunt; you get an experience.
Tyson was born and raised right in the country that we hunted. He took me to places I never thought I would actually get to hunt. I wanted to hunt big country. We covered big country that I didn't even realize existed. This part of the world offers some of the highest density of coyotes numbers anywhere with the richest fur as a bonus.
We conversed with coyotes using howls and distress calls every single day - some days it was every single stand. We saw and chased gray wolves! We saw moose, elk, muleys, whitetails, eagles, mountain lion and at least 12 or more coyotes each day of my hunt. My trips would have been great with or without all the coyotes. Coyotes and all the other wildlife ended up being just a part of the experience for me.
Tyson and his family made sure that I took home more than fur. Tyson made sure I took home a part of the Alberta attraction that has kept him there his whole life. My experiences with the Mackins have been first-class experiences all the way.
I look forward to my next experience. Thanks again!
JB Eanes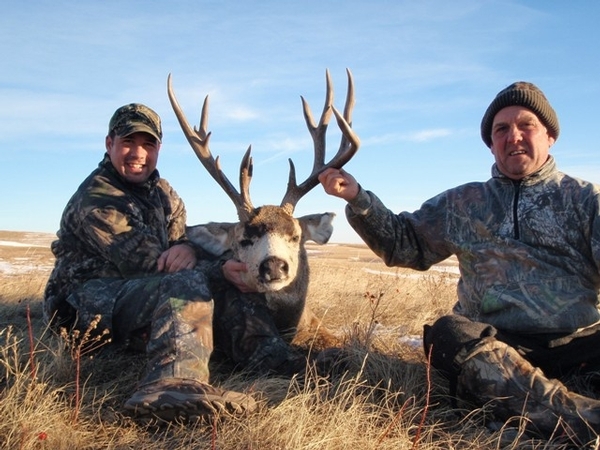 Ron and Brad Sigler
Mule Deer
A Hunt with Mackin Outfitters is more than just an extraordinary time in the field with an abundance of superior bucks to choose from. Tyson and Angie welcome you into their home and make you feel like a member of their family.
Great Hunt, great meals, great accommodations, make for a great experience. Hope to do it again. Thanks again!
Ron and Brad Sigler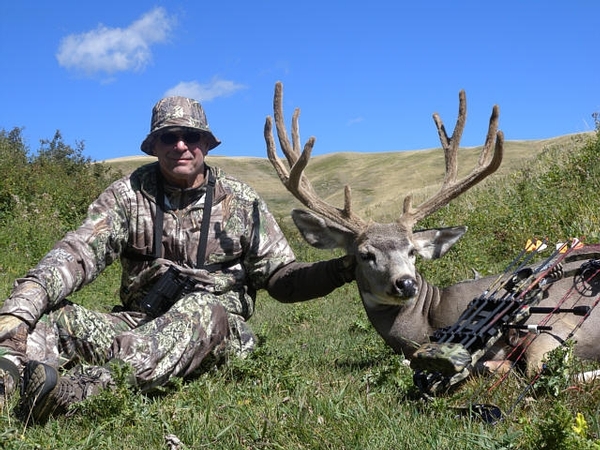 Russell Nichols
Archery Mule Deer
Hunting with Tyson Mackin, owner of Mackin Outfitting, inspires confidence in success. He knows what he is doing. From my first discussion with him about his approach to mule deer hunting with bow and arrow, I was impressed with his knowledge of them and their habits.
For example, when we discussed stalking them in their beds, he made sense when he said it was possible to get too close. They have a sixth sense that inexplicably tells them when danger lurks nearby and Tyson thinks that if you get much closer than 30 yards from where they are bedded, they can pick you off with just that sixth sense, especially the mature bucks that just seem to just know that something is amiss.
I had hunted mule deer several times before and experienced the same thing, so I was confident that he knew what he was talking about. Tyson told me to practice shooting out to 40 yards so that I would be confident shooting a buck at 30 yards. We agreed in advance that we weren't going to try to get within 15 or 20 yards and take a chance on activating that sixth sense or that an errant puff of wind would swirl our scent to a buck's extremely keen nose.
Another example that affirmed to me that he knew what he was doing was when he said that we should wait until they stand naturally, don't try to get them to stand by throwing rocks or bleating at them. I have been on hunts where the guide tried this and the bucks invariably jumped up and ran without me being able to get off a shot.
Tyson knows better than to try those things and told me ahead of time that we would get in range and then may need to wait for hours until the buck stood up naturally.
Russell Nichols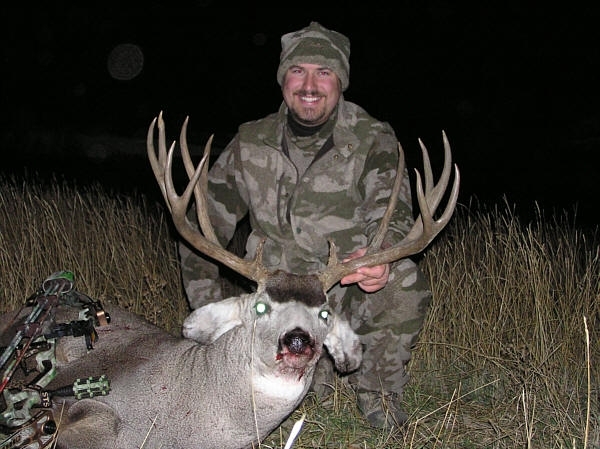 Eric Kuhlman
Archery Mule Deer
I've been on over 20 guided hunts and I must say I put Mackin Outfitting at the top of my list. When looking to go on a hunt I look for outfitters that cater to bow hunters, when Bow Hunting Safari Consultants booked me on this hunt in 2007 I knew after just a few days that I would be hunting with here multiple times. On this hunt I harvested a great 6x7 buck and three years later missed a monster. I have hunted all across North America and I believe this is the best operation I have been to too date. You will not find a guide/outfitter that works harder for his clients then Tyson. Look forward to our hunt this year and many more after that.
Eric Kuhlman
Oakwood, Ohio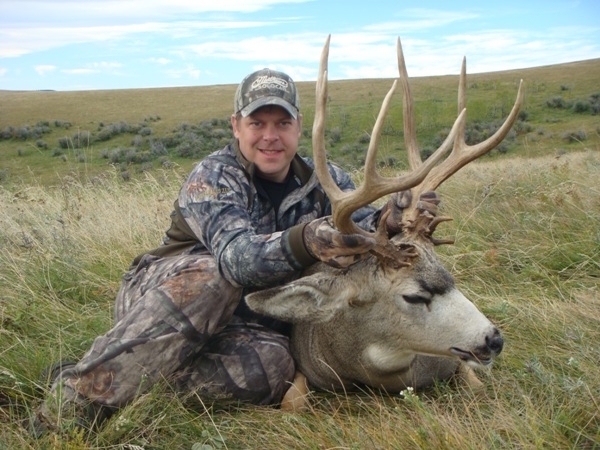 Brian Bauer
Archery Mule Deer
Fellow Archers, this past September I traveled to southern Alberta with my good friend Eric Kuhlman for my first spot and stalk Mule Deer hunt. Eric had hunted with Tyson a couple years earlier and took an awesome 180" class Mule Deer. Prior to the hunt Eric had told me so many good things about this hunt that let's just say I couldn't wait for the hunt to begin.
First, the accommodations and hospitality that Tyson and his wife Angie provide is top notch. I felt like a member of the family while I was there and that is as much as anyone could ask for when being away from home.
Now to the hunting, Tyson's vast stretches of private land access on the Rockies eastern slope is so game rich. We saw Moose, Black Bear, herds of Elk and large numbers of Mule Deer nearly every day. The terrain consisting of rolling hills, ridge tops, draws and coulees offer endless glassing looking for that one animal to ignite your predatory instincts. Spotting and stalking mule deer is just that "predatory".
If your experience has been primarily hunting Whitetails via treestands as much of mine has I urge you to consider this style of hunting. It is a blast. Should you pursue your first spot and stalk Mule Deer hunt or if you are already hooked on it contact Tyson. He is an expert at his craft and I'm assured your overall hunting experience there will resonate with you for years to come. I know it will for me.
Thanks again Tyson and Angie for the experience and adventure.
Brian Bauer
Oakwood, Ohio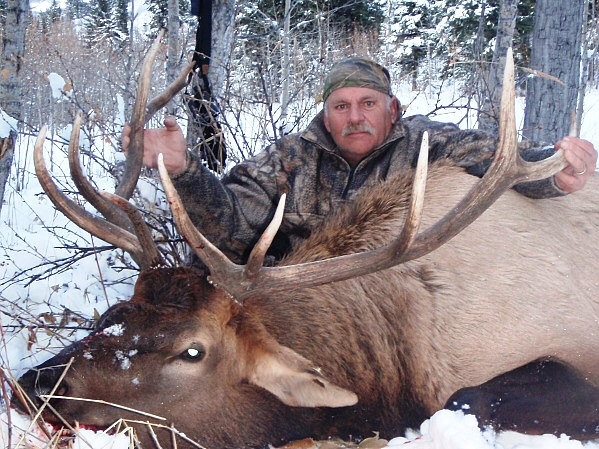 Nick Jorae
Elk (repeat hunter)
For the fall of 2009 I hunted a combo elk and mule deer hunt in the mountains. The weather was rough with snow and wind, and we packed in with horses and tent. It was a great time, we did not find a trophy buck and moved to a new area where we took a nice six point bull elk.
Fall of 2010 Tyson and I were once again in the hills this time for Shiras moose. The first day was -34F. With Tyson"s persistence he put me on a nice bull on day five.
Mackin Outfitting is a small hands on outfit. Tyson's beautful wife will keep you fed and comfortable in their new home. I can't say enough good things about this operation. Check out the photos, and give Tyson and Angie a call.
Nick Jorae
Laingsburg, Mi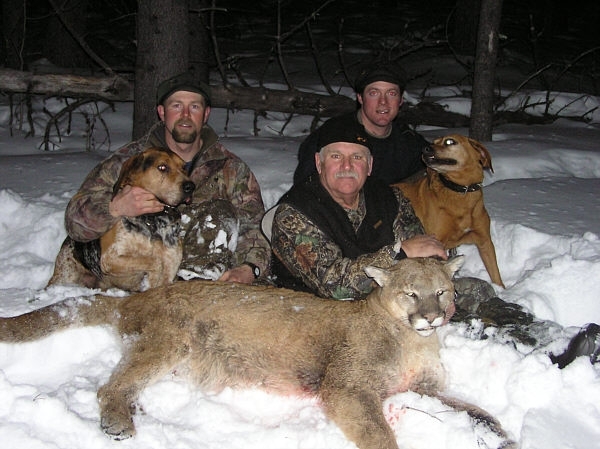 Nick Jorae
Cougar
My first connection with Mackin Outfitting was at our SCI fundraiser in Lansing Mi in 2007. After talking with Tyson Mackin, I bought his donated rifle mule deer hunt. The hunt was very good I took a nice old buck.
For the spring of 2009 I booked a cougar hunt after seeing the size of his cats. I was able to get a great cat after a lot of work, and fun. I am going back for another cat in 2012. In 2009 I bought the donated bow mule deer for my son in law Dean Miller. Dean and Tyson hit it off as both are good bow hunters. Dean took a great deer.
Mackin Outfitting is a small hands on outfit. Tyson's beautful wife will keep you fed and comfortable in their new home. I can't say enough good things about this operation. Check out the photos, and give Tyson and Angie a call.
Nick Jorae
Laingsburg, Mi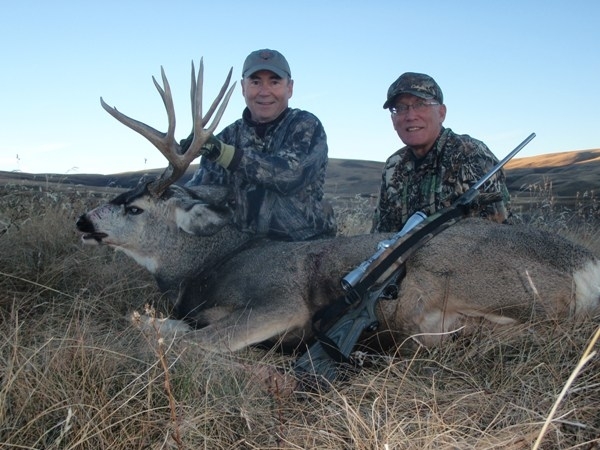 Ron Goffman
Mule Deer
Tyson and Angie, I wanted to thank you for providing a great Mule Deer adventure. Not only did we get an opportunity shoot a trophy mule deer, but you provided me with great hospitality and friendship. I would definitely recommend your guide service to anyone and I look forward to another adventure in the future.
Ronald Goffman
East Gull Lake, Minnesota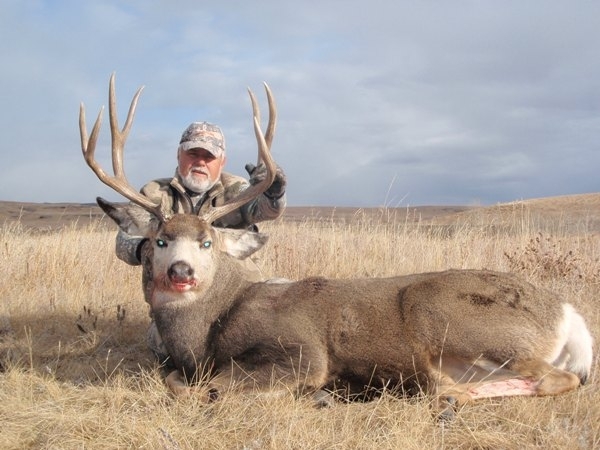 Greg Kenyon
Mule Deer
This was my first hunt with Mackin Outfitting but I am sure there will be more in the future. The hospitality was much more than I ever expected. Ty, Angie and Jessica made me welcome and treated me as an old friend.
The amount of private land we hunted seemed endless and no other hunters! Everyday we were glassing and stalking different groups with good bucks everywhere. Tyson worked hard and never complained if I turned down lesser bucks, looking for the best one.
Greg Kenyon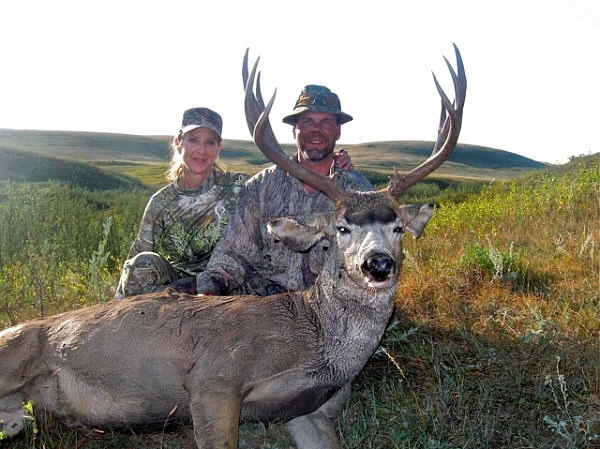 John Barklow
Mule Deer
Tyson and Angie make you feel like you are hunting with long time friends. They welcomed us into their home and made a great week on hunting truly memorable. The hunting is first class with great stalkable terrain and multiple stalks on 160" plus bucks. I've hunted for Mule Deer numerous times, several in Alberta, and Mackin Outfitting is at the top of the list.
John Barklow
Kodiak, AK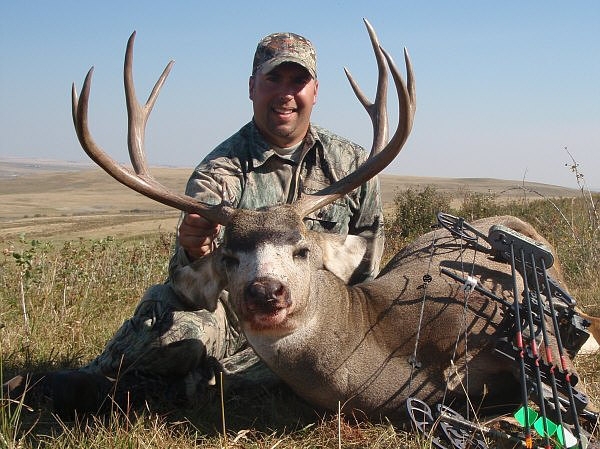 Dean Miller
Mule Deer
It was truly a great place for spot and stalk hunting. I harvested a great Mule Deer the second day of my bow hunt and I saw a lot of game each day. I hope to return in the future to hunt Shiras Moose, or Elk." I would recommend this hunt to anyone!
Dean Miller
Frederic, MI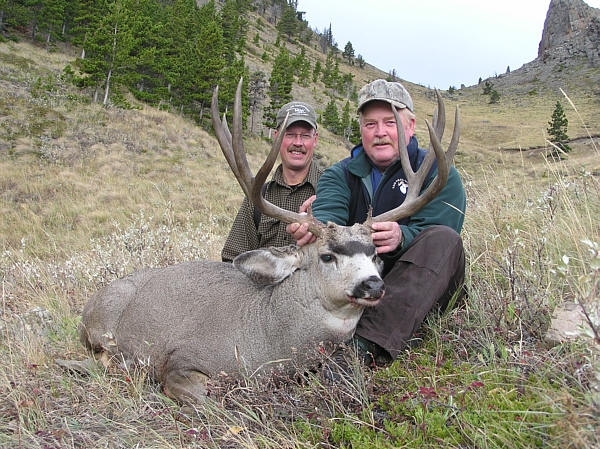 Chuck Shinabarger
Mule Deer (repeat hunter)
Great Country, Great Guide, Great Results. Don't know how you could ever get more "Bang for your Buck" on any hunting trip. The best of everything from start to finish.
Chuck Shinabarger
Bozeman, MT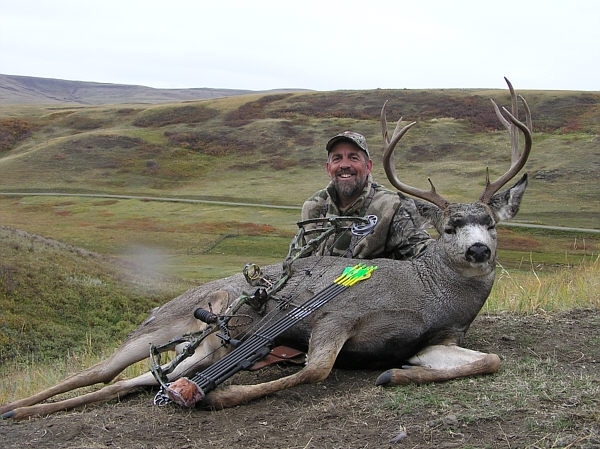 Roger Casterline
Mule Deer (repeat hunter)
My archery elk hunt with Mackin Outfitting was just as exciting as my previous archery hunt with them where I took a nice 4x4 mule deer. The first day of my elk hunt I had a 5X5 at 30 yards, but could not get around for a good shot. On the third day I had another opportunity that did not work out. I had other exciting stalks on some nice bulls throughout the week. The hunt, food and accommodations were excellent and I look forward to hunting with Tyson and Angie again in the future. They are great people. "Great Hunting Experience"!
Roger Casterline
New York
Send us a Testimonial
To our past clients: We appreciate your comments and if you would, fill out the form with comments and a photo about your experience at Mackin Outfitting Ltd. Fields marked with * are required. Please enter the Name field how you want your name to read on our website (Examples: John Doe, J. Doe, John D., John Doe Corporation).